Our Report: Our 4 Week Test | What Is Lipozene | Lipozene Side Effects | Does Lipozene Work | Lipozene Ingredients | Is Lipozene Safe | Lipozene Dosage | Lipozene Labels | Citations
Our Test Results
Please check back in mid May 2020, bookmark us. As we have hired someone to do a real life test, comparing Lipozene up against other supplements. To find out which supplements produced the best results.
What is Lipozene
Lipozene is made from Glucomannan which supposedly helps with suppressing your appetite out. Lipozene is sold by Obesity Research Institute, LLC .
Lipozene Side Effects
Since Lipozene is purely made with Glucomannan which is a dietary fiber extracted from the roots of the elephant yam it may cause gastrointestinal disturbance, the most common side effects of ingesting glucomannan are bloating, gas, constipation, abdominal discomfort, and or watery stool. If you do experience any of these symptoms do not panic it's only temporary and will subside. You can also read more about the safety of glucomannan (the active ingredient in Lipozene) at Pub Med.
Does Lipozene work
Based on studies though the active compound Glucomannan has not resulted in weight loss 100 percent of the time. Based on clinical trials from what Wikipedia says is that Lipozene has produced mixed results [1] [2]. There is no hard evidence showing that Lipozene does in fact work it's a hit or miss meaning you should give it a try. The worst thing that could happen is that it does not work and you may or may not experience some side effects.
Lipozene ingredients
One of the main active ingredients in Lipozene is made from Glucomannan extracted from the Konjac Root. Lipozene claims that this water soluble fiber has been being used in Japan for years now for losing weight . Form what Lipozene says It is believed that this water-soluble fiber expands and acts as a dietary fiber gel in your stomach that will give you a feeling of fullness, so you eat less and as a result, reach your weight loss goals quicker. In fact, there are even studies that connect it's active ingredient Glucomannan, with alleviating constipation, helping to maintain healthy cholesterol and supporting healthy blood sugar levels. Lipozene is non GMO, non-stimulated, no gluten, and caffeine free. So you will not have to worry about the caffeine jitters.
Is Lipozene safe
Lipozene might cause a stomach ache, but based on our research Lipozene is in fact 100 percent safe. The active ingredients in Lipozene is not a stimulant; nor harmful to the body based on our research. If you was to try Lipozene we would advise you start with 1 tablet a day. Just to see how your body responds to the tablet just to be safe. As mentioned above Lipozene is stimulant free, so you should not experience any jitters. No caffeine.
Lipozene Dosage
Based from Lipozene website they state to take take 2 capsules every 30 minutes before each meal up to 3 times per day with at least 8 ounces of fresh water. However please note since Lipozene is a stimulant free product. You might be "safe" to double up the dosage, but we would advise you only do that at your own risk. It's best to consult with a professional first.
Lipozene Labels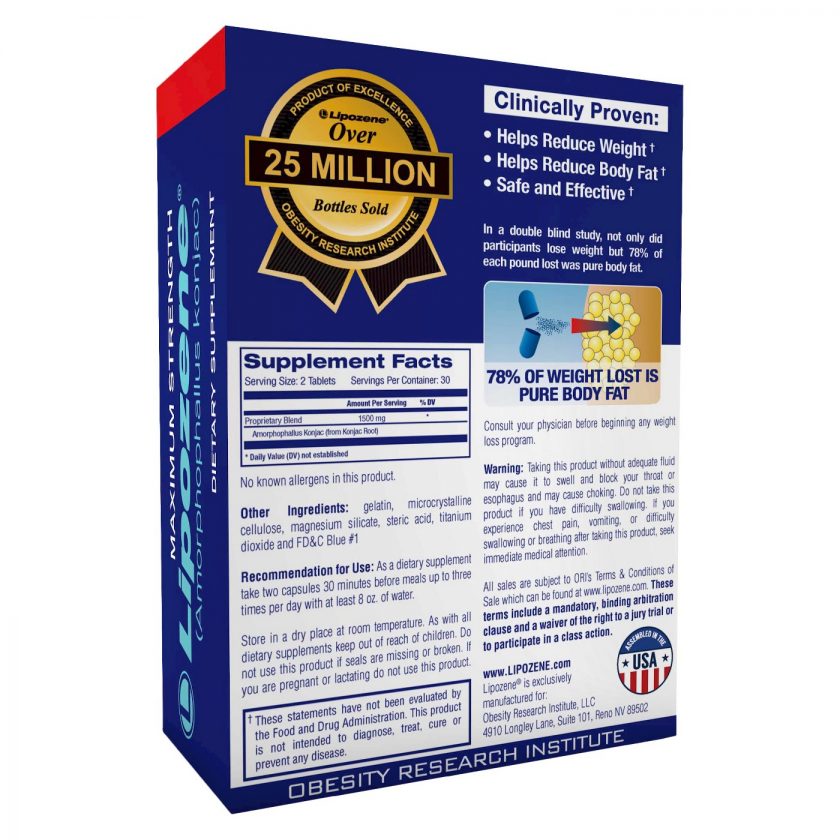 For best results utilize Lipozene with well planned workout routine
To obtain the best results possible we would advise combining exercise and a good diet plan with Lipozene. You have to remember you body tends to lose weight when your utilizing a combination of things. Going to the GYM 3 times a week while combing supplements could dramatically enhance your weight loss efforts. Even if you only go 1 hour a day 3-4 days a week, this would be an excellent starting point
Citations
British Journal Of Nutrition

: Effect of two doses of a mixture of soluble fibres on body weight and metabolic variables in overweight or obese patients: a randomised trial
Pub Med: Two doses of a mixture of soluble fibres on body weight and metabolic variables in overweight or obese patients
More Related Links On Glucomannan (active ingredient in Lipozene)
Pub Med

Glucomannan Effects of on plasma lipid and glucose concentrations, body weight, and blood pressure
Pub Med Mouth-to-cecum transit time in patients affected by chronic constipation: effect of glucomannan
Konjac glucomannan into a low-fiber Chinese diet promoted bowel movement and improved colonic
Other Links